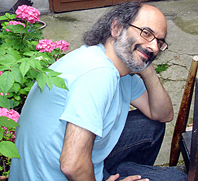 Tony Trigilio's most recent collection of poetry is Inside the Walls of My Own House: The Complete Dark Shadows (of My Childhood), Book 2 (BlazeVOX [books], 2016). He is the editor of the chapbook Dispatches from the Body Politic: Interviews with Jan Beatty, Meg Day, and Douglas Kearney (Essay Press, forthcoming 2016), a collection of interviews from his poetry podcast Radio Free Albion. His other books include, most recently, The Complete Dark Shadows (of My Childhood), Book 1 (BlazeVOX, 2014), White Noise (Apostrophe Books, 2013), and, as editor, Elise Cowen: Poems and Fragments (Ahsahta Press, 2014).
He also is the author of the poetry collections Historic Diary (BlazeVOX, 2011) and The Lama's English Lessons (Three Candles Press, 2006); the chapbooks With the Memory, Which is Enormous (Main Street Rag Press, 2009) and Make a Joke and I Will Sigh and You Will Laugh and I Will Cry (Scantily Clad Press, 2008); and two books of criticism, Allen Ginsberg's Buddhist Poetics (Southern Illinois University Press, 2012) and "Strange Prophecies Anew" (Fairleigh Dickinson University Press, 2000). With Tim Prchal, he co-edited the anthology, Visions and Divisions: American Immigration Literature, 1870-1930 (Rutgers University Press, 2008).
His poems have been anthologized widely, including most recently in The Golden Shovel Anthology: New Poems Honoring Gwendolyn Brooks (University of Arkansas Press, 2017), Poems Dead and Undead (Knopf/Everyman's Library, 2014), Obsessions: Sestinas in the Twenty-First Century (Dartmouth College Press, 2014), The Arcadia Project: North American Postmodern Pastoral (Ahsahta Press, 2012), A Face to Meet the Faces: An Anthology of Contemporary Persona Poetry (University of Akron Press, 2012), City of the Big Shoulders: An Anthology of Chicago Poetry (University of Iowa Press, 2012), Villanelles (Knopf/Everyman's Library, 2012), and Starting Today: 100 Poems for Obama's First 100 Days (U of Iowa P, 2010), among others.
He has published critical essays in Reconstructing the Beats (ed. Jennie Skerl; Palgrave/ MacMillan, 2004) and Girls Who Wore Black: Women Writing the Beat Generation (ed. Ronna Johnson and Nancy Grace; Rutgers University Press, 2002). Tony's articles and book reviews also have appeared in journals such as American Literature, Another Chicago Magazine, Boston Review, The Journal of Beat Studies, Milk magazine, Modern Language Studies, and Tulsa Studies in Women's Literature. His creative nonfiction essays appeared regularly in the Journal of the Cosmic Baseball Association.
Tony played in the band Pet Theories from 2012-2016, and he recorded and toured in the early-1990s as a member of Drumming On Glass. Since 2012, he has hosted the monthly poetry podcast Radio Free Albion.
He holds a Ph.D. in English from Northeastern University in Boston. While living in Boston, Tony edited Lotus Arrow, the newsletter of the Kurukulla Center for Tibetan Buddhist Studies, and was one of the founding members of the Fenway Skills Exchange, a grass-roots alternative economic system for the Fenway neighborhood.
He co-edits Court Green, and is an Associate Editor for Tupelo Quarterly. A recipient of a 2009 Illinois Arts Council Fellowship in Poetry, he has taught since 1999 at Columbia College Chicago, where he is a Professor of Creative Writing/Poetry. His courses can be found at starve.org/teaching/classes.html.
Updated May 28, 2017

Home | Upcoming Readings and Publications |
Radio Free Albion | Music | Court Green | Teaching