Episode 9: Lina ramona Vitkauskas (32:54)
Air Date: May 13, 2013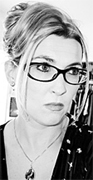 Lina ramona Vitkauskas is the author of the epic poem Spiny Retinas (Mutable Sound, forthcoming, 2014); A Neon Tryst (Shearsman Books, 2013); Honey is a She (Plastique Press, 2012); The Range of Your Amazing Nothing (Ravenna Press, 2010); and Failed Star Spawns Planet/Star (dancing girl press, 2006). Past and forthcoming publications include work in Coconut, The Awl, Matter, Tarpaulin Sky, DIAGRAM, TriQuarterly, The Chicago Review, and The Toronto Quarterly, among others. She is the marketing director of the Chicago School of Poetics and co-edits the 14-year-running online literary journal, milk magazine.
Episode 8: Leonard Schwartz (34:04)
Air Date: April 15, 2013



Leonard Schwartz's most recent book is If (Talisman House, 2012). He is also the author of At Element (Talisman House, 2011), A Message Back and Other Furors (Chax Press, 2008), The Library of Seven Readings (Ugly Duckling Presse, 2008), and Language as Responsibility (Tinfish Editions, 2006), among others. He hosts and produces the radio program "Cross Cultural Poetics" and teaches at The Evergreen State College. (Photograph by Star Black.)
Episode 7: Susan M. Schultz (47:58)
Air Date: March 11, 2013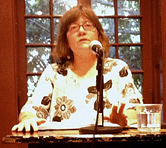 Susan M. Schultz's books include, most recently, "She's Welcome to Her Disease": Dementia Blog, Volume 2 (forthcoming, Singing Horse Press, 2013) and Memory Cards (2010-2011 Series) -- prose poems composed to fit on a time card or index card (Singing Horse, 2011). She is the editor of the anthology Jack London Is Dead: Contemporary Euro-American Poetry in Hawai'i (and Some Stories), which was published in 2012 by Tinfish Press. Susan's critical work includes the book, A Poetics of Impasse in Modern and Contemporary Poetry (Univ. of Alabama Press, 2005). She founded Tinfish Press in 1995. Susan lives and teaches in Hawai'i and is a lifelong fan of the St. Louis Cardinals.
Episode 6: Joe Harrington (46:25)
Air Date: February 18, 2013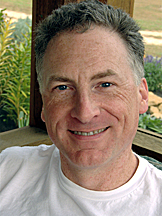 Joe Harrington is the author of Things Come On (an amneoir) (Wesleyan Poetry 2011), a mixed-genre work relating the twinned narratives of the Watergate scandal and his mother's cancer. Harrington is also the author of he chapbooks Earth Day Suite (Beard of Bees Press 2010 -- available as free PDF) and Of Some Sky (Bedouin, forthicoming), as well as the critical study Poetry and the Public: The Social Form of Modern U.S. Poetics (Wesleyan UP 2002). He was the 2005 Walt Whitman Chair of American Literature and Culture at the University of Groningen, The Netherlands, under the auspices of the Fulbright Distinguished Chairs Program. He is currently Professor of English at the University of Kansas in Lawrence.
Episode 5: CM Burroughs (38:44)
Air Date: January 28, 2013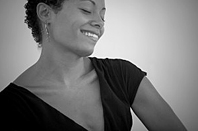 CM Burroughs is the author of the poetry collection The Vital System (Tupelo Press, 2012). She was born in Atlanta, Georgia, and earned degrees from Sweet Briar College and the University of Pittsburgh. She has been awarded fellowships from Yaddo, The MacDowell Colony, Virginia Center for the Creative Arts, Idyllwild Arts, and Cave Canem Foundation. Both the Studio Museum of Harlem and the Warhol Museum have commissioned her to create poetry in response to art installations. She lives in Chicago, where she is the Elma Stuckey Emerging-Poet-in-Residence at Columbia College Chicago. She will join the Core Poetry Faculty at Columbia College in Fall 2013.
Episode 4: Hannah Gamble (41:06)
Air Date: January 11, 2013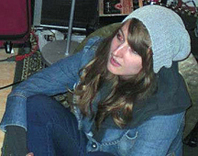 Hannah Gamble is the author of the poetry collection Your Invitation to a Modest Breakfast (Fence, 2012), which was one of the winners of 2011 National Poetry Series Competition, selected by Bernadette Mayer. Hannah has received writing and teaching fellowships from Rice University, the University of Houston, and The Edward F. Albee Foundation. Her poems and interviews appear or are forthcoming in American Poetry Review, jubilat, The Laurel Review, Indiana Review, and Ecotone, among others. She teaches English at the University of Wisconsin-Parkside and lives in Chicago.
Episode 3: Sandra Simonds (41:01)
Air Date: December 21, 2012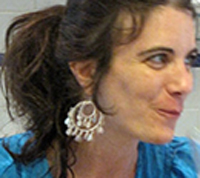 Sandra Simonds is the author of Mother was a Tragic Girl (Cleveland State University Poetry Center, 2012) and Warsaw Bikini (Bloof Books, 2008). Her poems have been published in Poetry, The Believer, The American Poetry Review, Fence, and Court Green, among others. She lives in Tallahassee, Florida, and is an Assistant Professor of English at Thomas University in Georgia.
Episode 2: Michael McColly (44:16)
Air Date: December 7, 2012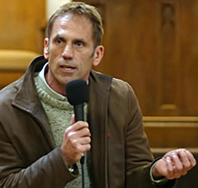 Michael McColly's recent book is the memoir The After-Death Room (Soft Skull Press), which chronicles his journey through several countries affected by the AIDS epidemic -- South Africa, India, Thailand, Vietnam, Senegal, and the United States. The After-Death Room won the 2007 Lambda Award for Best Spiritual Writing. Michael holds an M.A. in religious studies from University of Chicago and an M.F.A. from the University of Washington. He teaches creative writing in the B.A. and M.F.A. programs at Columbia College Chicago and Northwestern University. His website is http://mikemccolly.com.
Episode 1: David Trinidad (39:54)
Air Date: November 5, 2012



David Trinidad's most recent book is Dear Prudence: New and Selected Poems, which was published last year by Turtle Point Press. Peyton Place: A Haiku Soap Opera is forthcoming from Turtle Point in 2013. David lives in Chicago, where he teaches poetry at Columbia College and co-edits Court Green.