Biography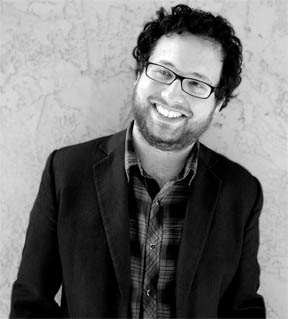 Michael Trigilio is a multimedia artist living in San Diego. Born and raised in San Antonio, Texas, he received his B.A. in Humanities from the University of Texas at San Antonio. His fear of religion notwithstanding, he was ordained as a lay-ordained priest in the Zen Buddhist Tiep Hien Order (Order of Interbeing) in 1997, a role from which he resigned five years later. He received his M.F.A. from Mills College in 2003. Michael's work is inspired by material that balances sarcasm and prayer, giving rise to works that examine religion, humor, narcissism, and science-fiction. His works in film, sound, performance, and tactical-media have been exhibited at the Museum of Contemporary Art San Diego, the LA County Museum of Art (LACMA), the Contemporary Museum in Baltimore, Anthology Film Archives in New York, Southern Exposure in San Francisco, and San Francisco's Dancers' Group.
Michael's collaborative public-media project Neighborhood Public Radio (with artists Lee Montgomery and Jon Brumit) was included in the 2008 Whitney Biennial and in residencies at Headlands Center for the Arts in 2007 and the Museum of Contemporary Art (MOCA) in Los Angeles in 2011. In 2013 he developed Project Planetaria with astrophysicist Adam Burgasser and artist Tara Knight focusing on interpreting stellar-data through performance, sound, and media-work. Michael's musical project, Starvelab, released a tape of modular synthesizer music on Rita Records in 2014.

Between 2013-15 Michael directed the expansive SESMI & Tell Them Everything / Remember Us (T2ERU) project. Investigating virtual-reality, LIDAR, 4K cinema, and stereoscopic strategies, these works are science-fiction experiments which play with the wisdom, folly, and neurotic obsession found in the discourse of interstellar memory. His recent short film, Growing Up Death Star (2015), premiered at the San Diego Underground Film Festival and was included in the Other Cinema program in San Francisco.
In 2013 Michael received the UC San Diego Distinguished Teaching Award for his work in the Department of Visual Arts where he teaches students in contemporary media art and sound.
updated October 4, 2017
| | |
| --- | --- |
| Michael Trigilio | b. 1975, San Antonio, TX |
| Curriculum Vitae | |
Visual Arts Department
University California, San Diego
9500 Gilman Dr
La Jolla, CA 92093-0084
. . . education
2003 M.F.A., Electronic Music & Recording Media (Intermedia Studies), Mills College, Oakland, CA
1999 B.A., Humanities (Art History & Criticism), University of Texas at San Antonio
. . . videography
2017 - Twelve Transmissions from the Occupied States Orbiting the Sun, 3 minutes
2015 - Growing Up Death Star, 18 minutes
2014 - "Power Positions" (4K film made with Ren Ebel and Tanner Cook for T2ERU)
2014 - "T2ERU: Falling Asleep" (4K film made for T2ERU project)
2013 - "T2ERU: Mothering a Drone" (4K film made with Trish Stone for T2ERU)
2013 - "T2ERU: Making Friends" (4K film made for T2ERU project)
2011 - BRINK, 18 minutes (with choreographer Katie Faulkner)
2010 - Love Like Tanks (4K version), 2 minutes
2010 - Each is a Dream (with choreographer Katie Faulkner)
2010 - Bodhisattva, Superstar, 83 minutes
2009 - THE ENDS collection ("Cable," "Love Like Tanks," "Evacuation," "One Million Broken Years," "Standing Burst Emotion," "Sea of Reeds"), 15 minutes
2008 - Breaking Glass: My David Bowie Movie, 9 minutes
2007 - Thanks for Giving My Number Back, 43 minutes
2005 - Works (After Hours), 11 minutes (with Trish Stone)
2005 - Nature (Superheroism), 4 minutes
2004 - Untitled Book Series, Volume 2, (video serial numbered "Book 22" through "Book 34"), 38 minutes
2002 - Untitled Book Series, Volume 1, (video serial numbered "Book 1" through "Book 21"), 50 minutes
. . . discography
2014 - Sugar, by Starvelab (Michael Trigilio), Rita Records
2007 - Save As. . . by Michael Trigilio, Starvelab Records
2005 - Contempt for Music by Michael Trigilio, Starvelab Records
2005 - Neighborhood Public Radio promotional CD (Co-produced with Lee Montgomery). Released at Version Festival, Chicago, IL
2000 - Music for Former First Ladies, by Michael Trigilio, 40,000 People a Day records
1999 - Starve Music, by Michael Trigilio, 40,000 People a Day records
. . . solo and featured exhibitions / performances / residencies
2015 - Signal Culture Residency, Siganl Culture, Owego, NY
2014 - Speculative Memory Ship (residency and solo-exhibition), 12128 space, Portland, OR
2014 - Tell Them Everything / Remember Us (T2ERU), Qualcomm Institute, presentation & performance of 4K cinema, virtual-reality, and LIDAR works, La Jolla, CA
2013 - OUR STAR WILL DIE ALONE, in collaboration with Project Planetaria, Without Walls Festival, La Jolla Playhouse, October 2013, La Jolla CA
2011 - Speculative Religious Electronics, Disclosed unLocation Gallery, San Diego, CA
2011 - Neighborhood Public Radio Engagement Party Residency, Museum of Contemporary Art (MOCA), Spring 2011, Los Angeles, CA
2010 - Maggie Allesse National Center for Choreography residency, Florida State University (with choreographer Katie Faulkner)
2010 - EVERYTHING IS UP, Summer Salon Series, San Diego Museum of Art, June 24.
2010 - Participation Nation: Art Invites Input, Contemporary Museum, Baltimore, MD (with Neighborhood Public Radio)
2009 - Tune In, Tune Out, Turn Up Everything, Artdistrict, Boulder, CO
2009 - THE ENDS, Rubber Rose Gallery, San Diego, CA
2008 - NPR /FRELAB/ : (Forward and Reverse Engineering for Live Analog Broadcast), Kavi Gupta Gallery, Chicago, IL
2007 - Neighborhood Public Radio: Experimental Radio Lab, Headlands Center for the Arts, Sausalito, CA
2006 - Radio Cartography, Southern Exposure Gallery, San Francisco, CA (through a grant from the Creative Work Fund)
2006 - Superordinary, Keys That Fit Gallery, Oakland, CA
2005 - Creative Justice, Amnesty International Exhibit, University of San Francisco, CA (solo performance)
1998 - Starve Performance, Clipper Ship Space, San Antonio, TX
1997 - Michael Trigilio: Starve, Cabeza de Piedra Gallery, San Antonio, TX
1997 - Michael Trigilio: Hospice 1, Wong Spot Gallery, San Antonio, TX
1997 - Hospice 1, San Antonio College, San Antonio, TX
1995 - Archipelago, Pt.1, 1203 Artspace, San Antonio, TX

. . . commissions
2016 - Deep Field, Counterpulse Theater, San Francisco, CA (commission for score and sound design from Little Seismic Dance Company)
2013 - Socially Engaged Speculative Media Initiative [SESMI], Qualcomm Institute, La Jolla, CA
2011 - We Don't Belong Here, commission from San Francisco's Dancers' Group, directed in collaboration with choreographer Katie Faulkner & Little Seismic Dance Company
2010 - The Resonant Pavilion, interactive sound-work to accompany the new Resnick Pavilion at Los Angeles County Museum of Art (LACMA)
2005 - Nature (Superheroism), commissioned by Michael Rosenthal to create an original work for the Ebay Art Project exhibit at Works/San Jose.
2002 - Decorum (dance by Lesley Braithwaite ), composed music and directed sound design
2003 - "Pope of Trash" (video by Nomi Talisman), composed and produced title music
2003 - Untitled (dance by Jessy Tuddenham), sound-design & score commission
2002 - Another Time in Another Place (dance by Kathrine McClintock), sound-design & score commission
2001 - French Domino Theory (dance by Lesley Braithwaite), sound-design & score commission
. . . group exhibitions
2017 - Mint, Division of Graduate Studies, UC San Diego, CA
2017 - WordHack Installed, Babycastles Gallery, New York, NY
2016 - Microvideo, Design Lab, Qualcomm Institute, San Diego, CA
2015 - Artistic Research: Visual Arts Faculty Exhibition, UAG, UC San Diego, CA
2014 - Object Object!!, Helmuth Projects, San Diego, CA
2013 - Teach-In, Cypress College Gallery, Cypress, CA
2013 - Corpus, SME Gallery, UC San Diego, La Jolla, CA
2011 - Wireless, Contemporary Arts Forum (CAF), Santa Barbara, CA as part of Neighborhood Public Radio
2010 - Here Not There, Museum of Contemporary Art San Diego, La Jolla, CA
2009 - Repeat Until., CompactSpace Gallery, Los Angeles, CA
2008 - Whitney Biennial, Whitney Museum of Art, New York, as part of Neighborhood Public Radio
2008 - Counter Hues, Golden Hill Art Space, San Diego, CA
2006 - The Whole Story, Watchword Press Exhibit, Theater Artaud, San Francisco, CA
2006 - LA Freewaves Festival - Online Exhibition (www.freewaves.org), Los Angeles, CA
2006 - 6th Annual 21 Grand Benefit, 21 Grand Gallery, Oakland, CA
2006 - Community Virology, Lobot Gallery, Oakland, CA
2005 - Truth and Lies, Mission 17 Gallery, San Francisco, CA
2005 - Illuminated Corridor, Downtown Oakland, CA
2005 - eBay Art Project, Works Gallery, San Jose, CA
2005 - The Diorama Show, Mission 17 Gallery, San Francisco, CA
2005 - 5th Annual 21 Grand Benefit, 21 Grand Gallery, Oakland, CA
2005 - After Hours, Works Gallery, San Jose, CA
2005 - Southern Exposure 30th Anniversary Art Auction, Southern Exposure Gallery, San Francisco, CA
2004 - By Any Means UnNecessary, Mission 17 Gallery, San Francisco, CA
2004 - Secede or Celebrate, Punch Gallery, San Francisco, CA
2004 - The Way We Work (w/ Neighborhood Public Radio), Southern Exposure Gallery, San Francisco, CA
2004 - Politics, Diablo Valley College Art Gallery, Pleasant Hill, CA
2001 - Think Again, Southern Exposure Gallery, San Francisco, CA
2001 - Tudor Remix with Maryanne Amacher & Noah Georgeson, Mills College, Oakland, CA
2001 - Blown Circuits, California College of Arts and Crafts, San Francisco, CA
2001 - Student Exchange exhibit, San Francisco Art Institute, San Francisco,CA
2001 - Video Special, Mills College, Oakland, CA
2001 - Archive Performance with Paul DeMarinis, Mills College, Oakland, CA
2000 - Salon, California College of Arts and Crafts, San Francisco, CA
2000 - Edible Material, University of Texas at San Antonio Satellite Gallery
1998 - Texas Dialogues: Parallels, Blue Star Art Space, San Antonio, TX
. . . screenings
2017 - Swedenborg Film Festival, London, November 18
2017 - San Diego Underground Film Festival, San Diego, CA, August 27
2017 - Other Cinema's "AVANT to LIVE: New Experimental Works," San Francisco, CA, May 20
2017 - Video Marathon, San Diego Art Institute, San Diego, CA, March 16
2016 - New Filmmakers Series, Anthology Film Archives, New York City, April 23
2015 - Other Mind's Cinema "Low Fi Sci-Fi," San Francisco, CA October 17
2015 - San Diego Underground Film Festival, San Diego, CA October 3
2014 - Filmmatic Festival, UC San Diego, La Jolla, CA, April 27,
2011 - Buddhist Geeks Conference, Los Angeles, CA, July 29
2010 - Citizenfest 8, Whistel Stop, San Diego, CA, December 22.
2010 - Calit2 Digital Cinema Showcase, Univeristy of Calfornia San Diego, La Jolla, CA, December 7.
2010 - Here Not There Film & Video presentation, Museum of Contemporary Art San Diego, La Jolla, CA, July 23.
2010 - Videoex Experimental Film & Video Festival, Zurich, Swizterland, May 23.
2010 - Carousel Microcinema #2, Queen Bee's Gallery, San Diego, CA, January 22.
2009 - T-10 Video Festival, 21 Grand, Oakland, CA
2008 - Southwest Gay and Lesbian Film Festival, Santa Fe and Albequerque, NM
2008 - Cantocore, Guangzhou, China
2008 - Overlaps, Golden Hill Neighborhood CDC, San Diego, CA
2008 - CitizenFest Tres, Citizen Video, San Diego, CA
2007 - The Mobile Archive, WYSPA Art Institute, Gdansk, Poland
2007 - SoCal Animators - Museum of Photographic Arts, San Diego, CA
2007 - Bay Area Music and Dance Video Art, Fluctuating Images, Stuttgart, Germany
2007 - Bay Area Music and Dance Video Art, The Lab, San Francisco, CA
2007 - Thanks for Giving My Number Back, Artists' Television Access, San Francisco, CA
2007 - Thanks for Giving My Number Back, 21 Grand Gallery, Oakland, CA
2007 - P.O.V. Animation Festival, Cerrito Theater, El Cerrito, CA
2007 - The Mobile Archive, Kunstverein, Hamburg, Germany
2007 - Stranger Than Fiction, Academy of Fine Arts, Helsinki, Finland
2007 - T-10 Video Festival, 21 Grand, Oakland, CA
2006 - The Mobile Archive: Cross Currents, Israeli Center for Digital Art, Holon, Israel
2006 - Stranger Than Fiction, The Lab, San Francisco, CA
2006 - P.O.V. Animation Festival, Parkway Theater, Oakland, CA
2006 - Filthy Filthy Puppets, Artists' Television Access, San Francisco, CA
2005 - T-10 Video & Film Festival (featured artist), 21 Grand Gallery, Oakland
2005 - Michael Trigilio: Untitled Book Series, Volume 2, Mills College Art Museum, Oakland, CA
2005 - Conflict/Interview, Glass Eye series at Barbés, Brooklyn, NY
2005 - Art Attack Film Festival, Plattsburgh For Peace, Plattsburgh, NY
2005 - Cross Currents: Bay Area Video Art, Musée d'Art Moderne et Contemporain, Strasbourg, France
2005 - Cross Currents: Bay Area Video Art, Fluctuating Images, Stuttgart, Germany
2005 - Video Time: Works in Series by Ellen Lake and Michael Trigilio, Works Gallery, San Jose, CA
2004 - T-10 Video Festival, 21 Grand Gallery, Oakland, CA
2004 - Monumental, Southern Exposure Gallery, San Francisco, CA
2004 - Seattle Lesbian and Gay Film Festival, Seattle, WA
2004 - In Troubled Times (film series), SUDAC, Stanford University, Palo Alto, CA
2004 - VICE: The Exploration of Non-Virtuous Qualities, The B Complex, Atlanta, GA
2004 - Relative: Picturing Domesticity, Athens Institute for Contemporary Art, Athens, GA
2004 - Arizona State University Short Film & Video Festival in Santa Ana, Rat Powered Films, Santa Ana, CA
2004 - DIGit: A Digital Media Exposition, Delaware Valley Arts Alliance, Narrowsburg, NY
2004 - Empire Ultra, The Lab, San Francisco, CA
2004 - 8th Annual Film & Video Festival, ASU Art Museum, Arizona State University, Tempe, AZ
2004 - How-To Intensive, New Langton Arts, San Francisco, CA
2004 - New Filmmakers, Anthology Film Archives, New York, NY
2003 - Open Zone, Ocularis Gallery, New York, NY
2003 - Alumni Special, Mills College, Oakland, CA
2003 - Crash, Southern Exposure Gallery, San Francisco, CA
2003 - Videomixtape 3, Lucky Tackle, Oakland, CA
2003 - Videomixtape 3, Pond, San Francisco, CA
2003 - Thursday Night Special, Bard College, Annandale-on-Hudson, NY
2003 - Video Works: Heike Liss, Nomi Talisman, & Michael Trigilio, 21 Grand Gallery, Oakland, CA
2002 - Untitled Book Series, Volume 1, Danforth Hall, Mills College, Oakland, CA
2002 - Rotterdam VHS Festival, Het Wilde Weten, Rotterdam, The Netherlands
2002 - Thursday Night Special, Bard College, Annandale-on-Hudson, NY
2002 - Signal Flow, Mills College, Oakland, CA
2001 - Witness, Southern Exposure Gallery, San Francisco, CA
. . . performance festivals & series
2016 - After 5: Starvelab aka Michael Trigilio, Hauser, Wirth, Schimmel, Los Angeles, CA, July 13
2015 - Stay Strange: starvelab (Michael Trigilio) / TOURIAN / ATARII / XAVIER RAMIREZ - Low Gallery - August 21
2014 - Fully Patched Music Presents: starvelab (Michael Trigilio)- Scott Nielsen - K.C. Dalton - prettyhowtown - DJ Furnas, September 17
2014 - Stay Strange: Checked Out - San Diego Public Library - August 16
2014 - Stay Strange: Blind/Deaf - San Diego Media Center - June 14
2014 - SESIONES DE MAQUINAS I / MUSICMAKERS HACKLAB - Romero Molina & Michael Trigilio
2014 - T2ERU, IDEAS festival, Qualcomm Institute, La Jolla, CA- Februar 20
2011 - Brain Bomb Music Festival, Tin Can Ale House, San Diego, featured performer.
2012 - THE ART OF SOUND IN SAN DIEGO, Space4Art, August 25
2011 - Makeout Weird, Whistle Stop Club, San Diego, CA, "Everything is Up"
2008 - Something is Happening events at UC San Diego, "Everything Is Up" intervention at Gilman Parkin Struture, December 5th
2008 - Intervene!Interrupt! Conference, Sesnon Gallery, UC Santa Cruz
2006 - Sampling Oakland , "Michael Trigilio Explains Three Religions," Yerba Buena Center for the Arts, San Francisco, CA
2006 - International Symposium on Electronic Art (ISEA),Zero One Festival (as part of Neighborhood Public Radio) San Jose, CA
2006 - Ghosttown Festival (w/ Neighborhood Public Radio), Portland, OR
2005 - Version 5 Festival (w/ Neighborhood Public Radio), Buddy Gallery, Chicago, IL
2003 - The Spring Has Sprung with the Contemporary Performance Ensemble, Mills College, Oakland
1998 - Starve Performance, Blue Star Artspace, San Antonio, TX
1996 - Archipelago, Pt.1, Jump Start Performance Space, San Antonio, TX
. . . public lectures
2017 - "How to Watch Star Wars in a New Way" - How To Festival, San Diego Central Public Library, 5/13
2016 - "How to Appreciate the Music of Prince" - How To Festival, San Diego Central Public Library, 5/14
2016 - Orbital Notation: Scores for Electronic Music," for Dorkbot SD, Whistel Stop, San Diego, CA, 2/24
2015 - "SESMI + T2ERU," Mapping Digital Futures, UCSD Center for Humanities, 4/6
2015 - Extensions: Art and Humor at Museum of Contemporary Art San Diego, La Jolla, 4/16
2014 - "Rebel Cruisers, Used Futures, Drafting Galactic" Expeirmental Drawing Studio, UC San Diego, February 26th
2013 - "Socially Engaged Speculative Media Initiative," CSRO conference, Calit2, UC San Diego
2013 - "Speculative Futures / Marshall Stacks," S3D World Conference, Calit2, UC San Diego
2012: "Upgrade! San Diego presents Michael Trigilio," SDSU Gallery, San Diego, CA
2010 - "Religion & Narcissism," Professors Unscripted, The Loft, UC San Diego
2009 - "Religion & Narcissism," CADRE, San Jose State University,CA
2009 - "Sarcasm and Prayer," Artdistrict, Boulder, CO
2009 - Art & Technology Conference, "1/4watt of pure power," UC Berkeley (with Lee Montgomery and Jon Brumit of Neighborhood Public Radio).
2008 - Naricissm and Self Portraiture, Golden Hill Artspace, San Diego, CA
2008 - Visiting Artist Lecture, Oberlin College, OH, Lecture: "Michael Trigilio: Media and Radio Works" 2/23
2008 - Conversation with Pi editor Oren Sarch, Price Center Theater, Uc San Diego, CA, 10/20
2008 - Guest Artist Lecture, Counter Hues Exhibit, Golden Hill Art Space, San Diego, CA 11/15
2007 - Lecturer as Artist-in-Residence, Headlands Center for the Arts, Marin, CA, Lecture: "Neighborhood Public Radio's Experimental Radio Lab," 09/11
2007 - Panelist, Cinema Sud, Italian Film Festival, Museum of Photographic Arts, San Diego, CA, 10/25
2007 - Guest Artist Lecture, St. Mary's College, Moraga, CA, Lecture: "Experimental Self-Portraiture" 03/21
2006 - Guest Artist Lecture, University of California Berkeley, CA, Lecture: "Untitled Book Series and Serial Methodology"03/14
2005 - Guest Artist Lecture, Stanford University, Palo Alto, CA, Lecture: "Untitled Book Series and Serial Methodology" 05/10
2005 - Guest Artist Lecture, Columbia College, Chicago, IL, Lecture: "The Untitled Book Series and Visual Language"04/28
2004 - New Langton Arts, San Francisco, CA, Lecture: "The Complaint Project" with Heike Liss 01/21
2003 - Guest Artist Lecture, San Francisco Art Institute, San Francisco, CA, Lecture: "About the Untitled Book Series" 09/18
. . . public workshops
October 5, 2017 - "Radical Collaboration & Empathy Scores," [as part of Deep Time University], Museum of Contemporary Art San Diego
April 12, 2017 - "Collaboration & Radical Empathy," Deep Time University, La Jolla, CA
August 2, 2014 - Synthpack workshop, 12128 Boatspace/Labrador, Portland, OR
June 3-6, 2014 - Music Maker Hacklab, TJ in China Gallery, Tijana, Mexico
March 26, 2013 - T2ERU Workshop, Cypress College Gallery, Cypress, CA
June 6, 2010 - Turn Up Everything - synthpack workshop, Agitprop Artspace, San Diego, CA
July 13th, 2009 Synthpack Workshop, Boulder Museum of Contemporary Art, CO
October 2nd, 2008 Proyecto Civico workshop at Lui Velazquez, Tijuana
May 9th, 2008 "State of Mind Stations" event in collaboration with the Golden Hill Neighborhood Community Development Corporation, The Guild, San Diego, CA.
April 27th, 2008 Transmitter Building Workshop with Neighborhood Public Radio, Whitney Museum of American Art, New York, NY
February 22nd, 2008 "FMemory Radio Workshop," Oberlin College, Oberlin, OH
February 2nd, 2008 Workshop with El Cubo project, A Friend's Place Drop-In Shelter, Los Angeles, CA
August 25th, 2007 Transmitter Building Workshop with Neighborhood Public Radio, Headlands Center for the Arts, Marin, CA
. . . published
2016 - Inside the Walls of My Own House: The Complete Dark Shadows (of my Childhood) Book 2, by Tony Trigilio, BlazeVOX books [book cover design]
2014 - Memory Exile, comic-book with illustrator Kayla Batom, (self-published)
2013 - Exchange: ICAP + T2ERU, eds. Michael Trigilio and Lee Montgomery, Qualcomm Institute, La Jolla, CA
2013 - Engagement Party Social Practice at MOCA, 2008-2012, Edited by Elizabeth Hamilton. Introduction by Aandrea Stang.
2013 - Plataforma Arte Educacion, "Escritura basada en la experiencia. Michael Trigilio" (translated by Felipe Zuniga), April 29, 2013
2012 - "Studio Classroom as Experiential Learning Lab," Education In Action, edited by Liz Losh, published by Sixth College, UC San Diego
2008 - 2008 Biennial Exhibition (catalog), Henriette Huldisch, Shamim M. Momin (eds), Whintey Museum of Art, Yale Univeristy Press, New Haven, March 10, 2008
2005 - Kitchen Sink Magazine, "Seasonal Cinema," by Michael Trigilio, Issue KS12, Fall 2005
2005 - "Interview with Ivan Brunetti," The Work of Art in the Age of Digital Reproduction: Illuminations from the San Francisco Media Arts Underground, published by Artists' Television Access, December 2005
2003 - Pop Abstraction, Humor, Narcissism, and God (Not God Really, It's just that when I say "God" what I Really Mean is "Sex" and/or "Death,"). MFA Thesis, Mills College, Oakland, CA
2000 - Turning Wheel, "No Taxes For Torture," by Michael Trigilio, October 2000
2000 - Street Spirit Magazine, "The Day of Mindfulness" by Michael Trigilio, September 2000
. . . press
DanceViewTimes, On Toward the next Decade, by Rita Felciano, June 1
Dance Matters - "MAY 26TH, "10TH ANNIVERSARY HOME SEASON" Little Seismic Dance Company, Choreography by Katie Faulkner", June 1, 2016
SF Gate, Little Seismic Dance's anniversary gift to audience, by Allan Ulrich, May 27
San Diego Citybeat, The San Diego Underground Film Festival debuts, by Glenn Heath Jr., September 20, 2015
La Jolla Light, LET'S REVIEW: Visual Arts profs boldly strut their stuff in UCSD gallery show, by Will Bowen, June 3, 2015

La Jolla Light, UC San Diego's IDEAS series combines performance art with new technologies in La Jolla, March 19, 2014

Portalnd Instituate of Contemporary Art Blog, "PRECIPICE FUND PROJECT UPDATE: 12128 (THE BOAT SPACE)" August 17, 2014

PortlandArt.Net, "First Weekend Picks," by Jeff Jahn, July 31, 2014

San Diego Reader, Our Star Will Die Alone: an interactive heavy metal(s) band, by Chad Deal, September 23, 2013

KCET, "Michael Trigilio and Messages to the Future," by Kinsee Morlan, June 6, 2013

San Diego Citybeat, "Bad Brains, The Burning of Rome and more San Diego concert" by Peter Holslin, November 28, 2012

San Diego Citybeat, "Michael Trigilio rocks out to Taylor Swift," Peter Hoislin November 14, 2012

San Diego Citybeat, "Upgrade! San Diego, San Diego Dances, and Iron Fist" October 24, 2012
San Diego Reader, "Disclosed unLocation - Interactive Audio in South Park," by Bobby Bray, March 14, 2012
Daily Nexus, "KCSB to Hold Live Audio Exhibit," by Yishian Yao, November 4, 2011
7X7 Magazine, "Dancing in the Streets: Katie Faulner and Little Seismic Dance Company," by Amber Adrian, October 6, 2011
SFGate, "Performance Series as Grants for the Arts turns 50," byTamara Straus, October 6, 2011
SFAppeal, "Dance Flash: Challenge the Status Quo with 'We Don't Belong Here,'" by Becca Klarin, October 6, 2011
San Diego CityBeat, "Demystifying Michael Trigilio," by Paloma Fernandez, June 15, 2011
LA Weekly, "Neighborhood Public Radio Creates Symphony Via Car Stereos and Ping-Pong Matches in MOCA Parking Lot," by Gabriel Cifarelli, May 6 2011
TrendCentral, "Sound Makes Waves: Artists from varied genres venture into the audio realm," May 10, 2011
Buddhist Geeks Podcast, "BG 184: Bodhisattva, Superstar," August 17, 2010
AndrewsArts, "Michael Trigilio@SDMA's Summer Salon Series," by Richard Gleaves, July 16, 2010
KPBS Blog, "Arist Michael Trigilio Brings Buddhism, Electric Guitars to Museums," by Jane Paton, June 22, 2010

Art Papers, "Participating Nation: Art Invites Input," April 2010
Elephant Journal, Boulder, ArtDistrict brings Michael Trigilio to town, July 8, 2009

Good Times Santa Cruz, "Intervene! Interrupt!," by John Malkin, May 14, 2008
Rhizome.org, "Access in Excess," by Marisa Olson, April 8th, 2008
New York Press, "New York's Newest (And Tiniest) Radio Station," by Billy Jam, March 26, 2008
Weekend Edition, National Public Radio, "Another NPR Crops Up at the Whitney," by Karen Michel, March 22, 2008
WFMU's Beware of the Blog, "Enablers, the Whitney Biennial, Neighborhood Public Radio," by Mike Lupica, March 8, 2008
Artinfo.com, "The Best of the Biennial," by Robert Ayers, March 5, 2008
ForYourArt, "Access in Excess: Neighborhood Public Radio," by Tim Ivison, February 3, 2008
San Francisco Chronicle, "Neighborhood Public Radio mixes up Art and Radio,"by Reyhan Harmanci, December 29, 2007
Sfweekly.com, "Don't Start Believin'" by Hiya Swanhuyser, December 2005
Punk Planet, "Neighborhood Public Radio," by Roman Mars, issue PP69, September 2005
San Francisco Magazine, "Best of Arts and Entertainment: Super Local Radio Station," July 2005
San Francisco Bay Guardian. "Critic's Choice - 'Cross Cuts,'" by Clark Buckner, June 1, 2005
SF Gate (Culture Blog), "Friday night art opening: The Diorama Show," by Matt Petty, June 27, 2005
Chicago Reader. NPR at Version>5, April 2005
East Bay Express. "Art in the Age of Mechanical Reproduction by NPR at 21 Grand," January 12, 2005
SF Gate, "By Any Means UnNecessary," Alison Bing, January 2005

. . . grants & awards
2013 - UC San Diego Distinguished Teaching Award
2013 - Academic Senate Research Grant, "Socially Engaged Speculative Media Initiative," UC San Diego
2013 - Calit2 Strategic Research Opportunity Award, Qualcomm Institute
2011 - Academic Senate Research Grant, "Speculative Religious Electronics," UC San Diego
2010 - Sony Scholars Award
2008 - Academic Senate Research Grant, "Portable Radio Instuments," UC San Diego
2006 - Creative Work Fund Grant for Neighborhood Public Radio and Southern Exposure Gallery
2006 - ISEA: Zero One Festival – Community Domain Commission for Neighborhood Public Radio
2005 - CEC ArtLinks Grant for Neighborhood Public Radio
2002 - Mills College Graduate Research Grant
2002 - Crothers Scholarship Award
2001 - Mills College Graduate Research Grant
2001 - Mills College Graduate Assistantship
1998 - Visual Arts Scholarship, University of Texas at San Antonio
1994 - ASCAP Young Composers Awards Honorable Mention